Best 11 Delhi Book Stores Every Delhiite Should Check Out Before The Technology Overtake The Books!
The new global exposure to technology has changed our perspective toward reading books, with more and more digital products being introduced in the market, the shift from books to Kindles and tablets is quite noticeable.
Still, in this new age era, there are quite a few people who are into reading a physical book, because technology can never provide you the vibe and mindset that a book will.
For all those bookworms, Showcase Delhi has brought up these top 11 delhi book stores to begin your search for that perfect book!
PEOPLE TREE BOOKSTORE
Roaming around in Connaught Place in search of those must-read books? This book store located at the powerhouse of the city is the best place to find your readable tales. Being a part of a clothing store People Tree Book-Store is a small cozy place, we aren't sure if you would get all your dreams books there or not. But yes if you are a hardcore reader we are sure you won't have any difficulty in choosing one for yourself.
| | |
| --- | --- |
| NAME – | People Tree Book Store |
| ADDRESS– | 8, Regal Building, Parliament Street, Cannought Place |
| CONTACT – | 011 2374 4877 |
| INFO | CLICK TO KNOW |
BAHRISONS BOOKSELLERS
One of the oldest Book stores the city has ever seen, located at Khan Market. This place must be on your checklist next time you opt to get a book for yourself. Bahrisons is the place where you can find every book you ever thought of, from classics to Man Booker Prize nominee all are available here. They recently got renovated and now have a good space available for people to browse over the area.
| | |
| --- | --- |
| NAME – | Bahrisons |
| ADDRESS– | Flat no 6, Khan Market, Rabindra Nagar |
| CONTACT– | 011 2469 4611 |
| INFO – | CLICK TO KNOW |
OXFORD BOOKSTORES
If you are the one who loves to read books while sipping that amazing coffee, this Delhi bookstore will sound like Heaven to you.
Oxford Bookstore is one of the biggest book shops you will find in the city, the best thing about this place is they have a coffee outlet "CHA BAR" integrated withing this book readers paradise.
| | |
| --- | --- |
| NAME- | Oxford Bookstore |
| ADDRESS- | N 81, Block N, Connaught Place, New Delhi |
| CONTACT – | 011 4919 2092 |
| INFO- | CLICK TO KNOW |
THE BOOK SHOP
All those literary fiction, biographies, current events, crime novels, and mystery lovers, "THE BOOKSHOP" is the place you can step into next time on your book hunt.
Being one of the pioneers in the book business this outlet has a footfall of some noteworthy authors like William Dalrymple, Khushwant Singh, and Arundhati Roy.
| | |
| --- | --- |
| NAME– | The Bookshop |
| ADDRESS- | Market 13/7, Jor Bagh, New Delhi, |
| CONTACT- | 011 2469 7102 |
| INFO- | CLICK TO KNOW |
CHAPTER 101 BOOKSELLER
This book outlet is home to all those 101 books we have heard of, Having that literary look with brown wooden interiors this book store will be your go-to place for all that binge reading. Dont forget to try their coffee while hovering over their unique collection.
| | |
| --- | --- |
| NAME- | Chapter 101 |
| ADDRESS | 101D, Golf Course Road, DLF Phase 5, Sector 53 |
| CONTACT- | 0124 257 5684 |
| INFO- | CLICK TO KNOW |
Arora Book Shop
Hauz Khas Market is not only the hub to those spooky lanes and cafes but also where you can get books at dirt cheap prices. Arora Book Shop is among the best Delhi book stores you can count on to get books at cheaper prices. This gem of a place is into buying and selling old books, so try to find the best one for you and once you are done reading that, get back and return that to get your money back or instead get another book in exchange. Sounds amazing right?
| | |
| --- | --- |
| NAME- | Arora Book Shop |
| ADDRESS- | Uphaar Cinema, S-6, Sri Aurobindo Marg, |
| CONTACT- | 098916 56392 |
| INFO- | CLICK TO KNOW |
CMYK
Unlike other popular bookstores in the city taking care of all those science fiction or classic books, this place is a bit different from what it has to offer to its clients.
If art and design is something you excel at or something you love reading about this place will make you go crazy with its collection.
Do check out their stationery as well!
| | |
| --- | --- |
| NAME- | CMYK BOOK STORE |
| ADDRESS- | M-75, First Floor, Greater Kailash 2,M Block Market. |
| CONTACT- | 011 2921 1881 |
| INFO- | CLICK TO KNOW |
May Day Bookstore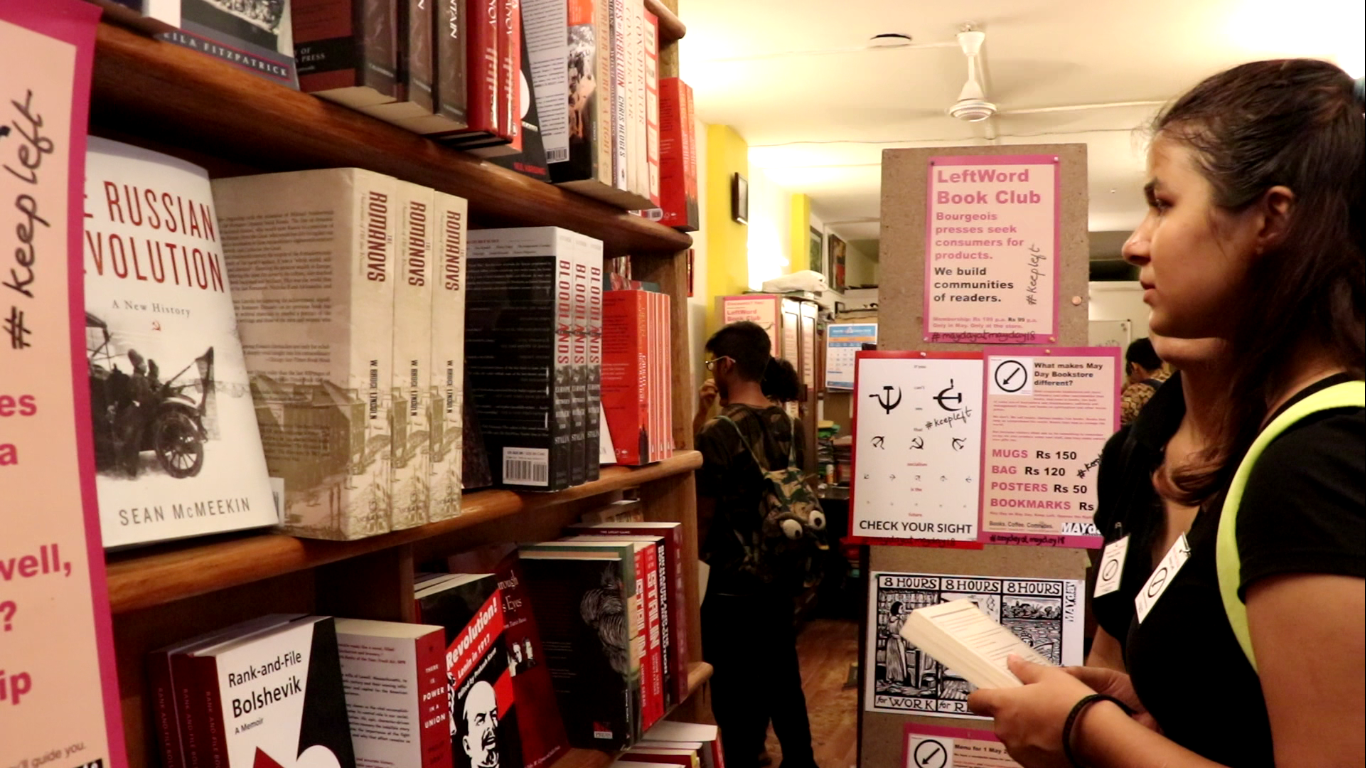 'Bayaasi number' is what this place referred to as. Every book lover must visit this place once to experience all of the exotic collection they have got.
The sole purpose of this place is not to generate income but to be a part and increase the books reading community.
( PS: You might not get Chetan Bhagat Books there :P)
| | |
| --- | --- |
| NAME- | May Day Bookstore |
| ADDRESS- | 254/2-, Shadi Khampur, West Patel Nagar. |
| CONTACT – | +911125709456 |
| INFO- | CLICK TO KNOW |
Midland Book Shop
You won't find a better science fiction collection in Delhi NCR than this small cozy store run by a family that loves books. The store is located at Aurobindo Market, if you are in the search of a particular book by any Indian author, this is the place you can hop on to.
| | |
| --- | --- |
| NAME- | Midland Book Shop |
| ADDRESS | Shop No.20, Aurobindo Palace Market, Hauz Khas |
| CONTACT – | 011 2686 7121 |
| INFO- | CLICK TO KNOW |
CHOR BAZAAR – OLD DELHI
Not even kidding, Chor Bazaar is the place you get books at really cheap prices. Starting from those narrow lanes of Jama masjid and extending to those shacks of Darya Ganj, The Market Of Thieves is open for public dealing on every Sunday.
If you are someone whose into binge reading, this place is heaven for you. Imagine getting all those classics at just 50 bugs, surprised right?
Also if you want to catch on an amazing deal try buying books on the basis of per kg price, you might find some gold in those shacks.
| | |
| --- | --- |
| NAME– | CHOR BAZAAR MARKET |
| ADDRESS– | 235, Meena Bazar, Meena Bazaar, Jama Masjid, Old Delhi |
| CONTACT- | No contact details – sellers keep on changing |
| INFO- | CLICK TO KNOW |
DO YOU KNOW ABOUT BEST RESTAURANTS IN PANDARA ROAD MARKET, DELHI — CLICK TO CHECK OUT – PANDARA ROAD RESTAURANT
This error message is only visible to WordPress admins

Error: The account for showcasedelhi needs to be reconnected.
Due to recent Instagram platform changes this Instagram account needs to be reconnected in order to continue updating. Reconnect on plugin Settings page